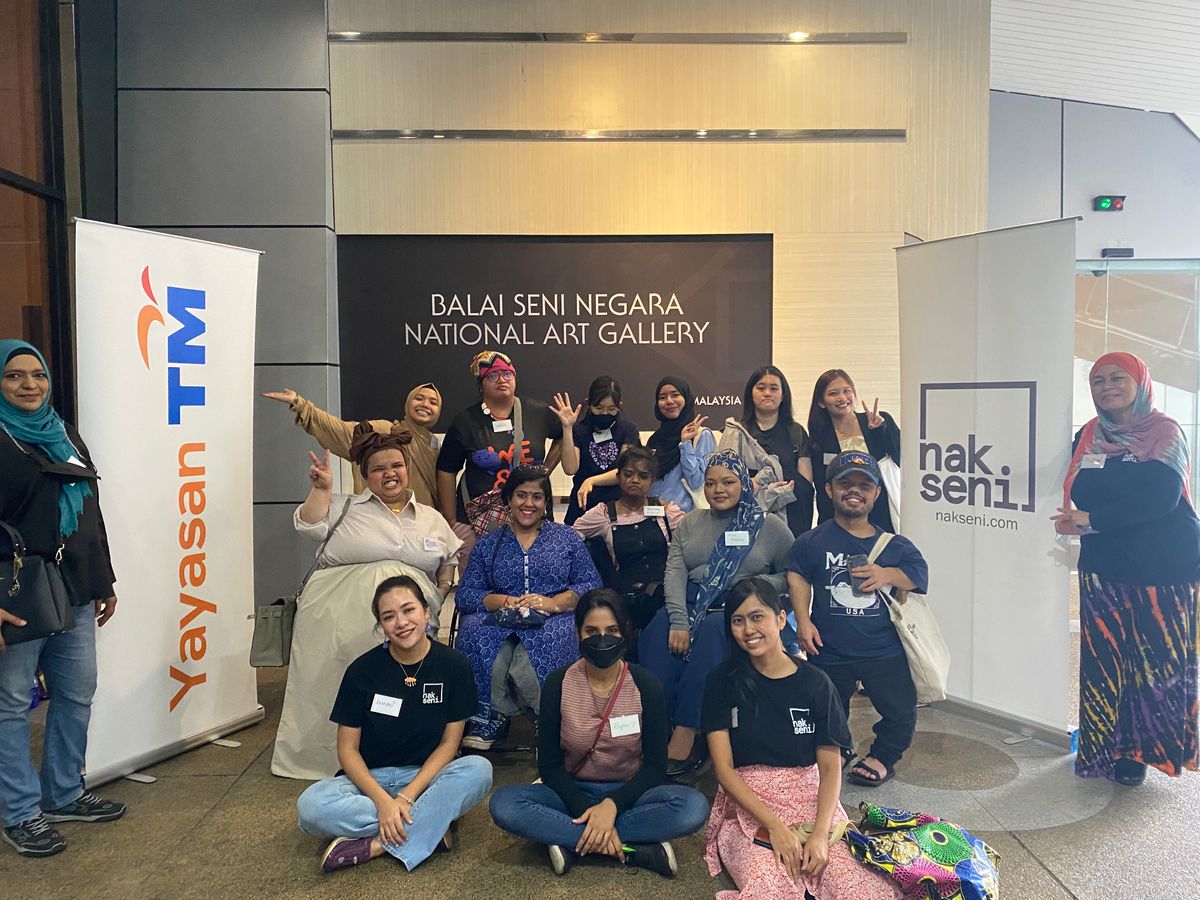 On June 17th, 2023, NakSeni's IncluCity.my, a mapping project aimed at identifying accessible spaces and organising inclusive programs, organised a mapping excursion to the National Art Gallery. Fully supported by the Yayasan TM under the Social Impact Grant, the primary objective of this event was to provide an inclusive art experience for individuals with disabilities, fostering their engagement and appreciation for the arts. A total of 19 people participated, including 8 individuals with disabilities (PWDs), 5 volunteers, 4 parents, and 2 organisers.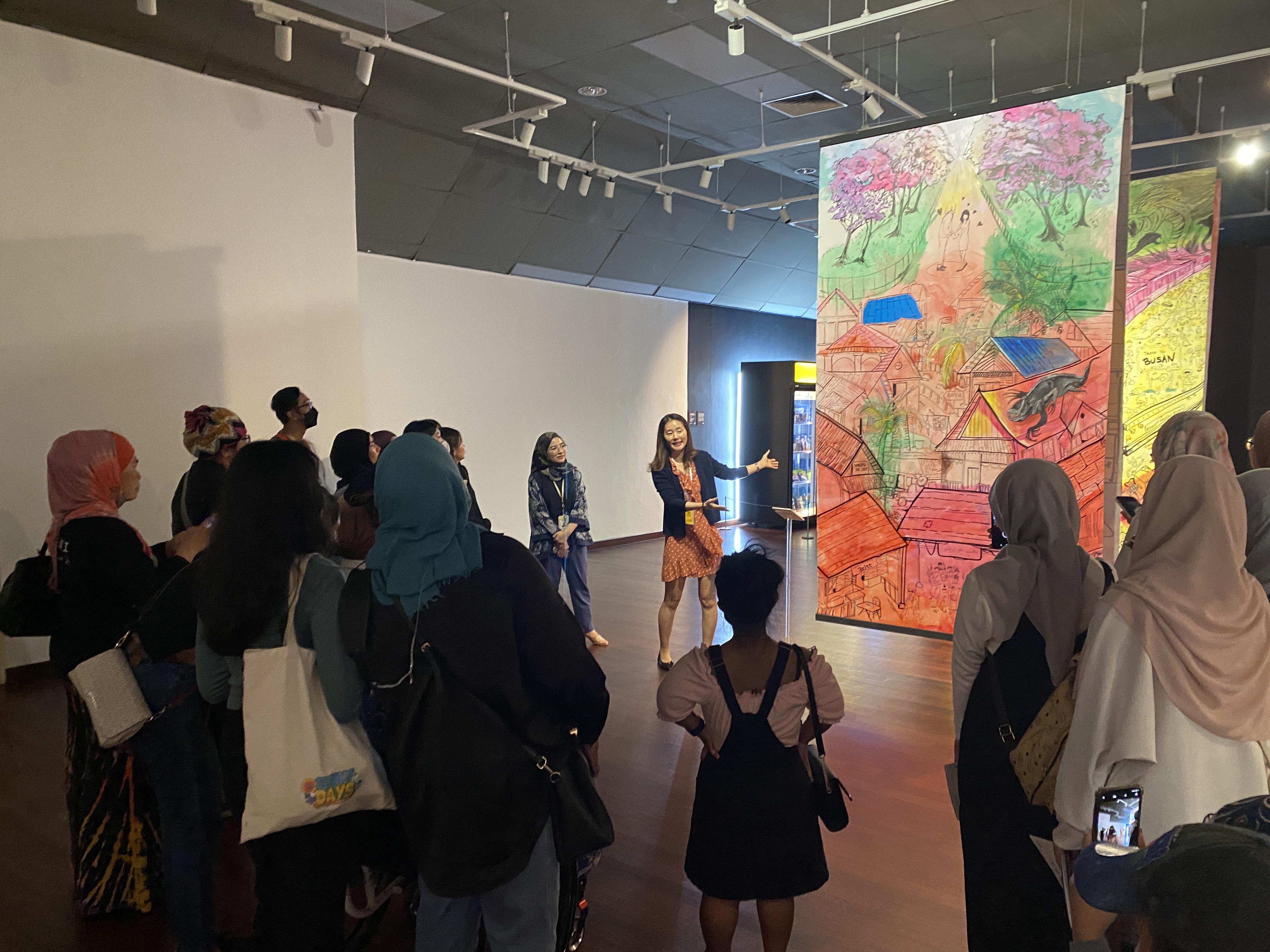 The mapping excursion at the National Art Gallery empowered individuals with disabilities to explore the vast world of art within a welcoming and inclusive environment. The event commenced with a guided tour of the "Korean Wave" exhibition, led by passionate volunteers from Korea who explained the relationship between Malaysia and Korea. Participants were delighted by the hospitality extended to them and gained valuable insights into the artworks, historical context, and artistic techniques on display. This immersive experience sparked their curiosity and deepened their appreciation for diverse forms of artistic expression.
The inclusive nature of the event created a safe and supportive space for participants to express themselves and connect with art on a personal level. Engaging in meaningful discussions with fellow participants, PWD youths shared their perspectives, insights, and emotional responses to the artwork, fostering socialisation. This process of self-expression and connection facilitated personal growth, boosted self-confidence, and nurtured a sense of belonging within the art community. Following the gallery visits, a lunch gathering was hosted at Sejiwa Cafe, a venue that combines food, coffee, and art. The founders warmly welcomed our group, creating an environment where participants felt wholeheartedly embraced.
The excursion organised by NakSeni's IncluCity.my at the National Art Gallery exemplified the power of inclusivity within the cultural sphere. Actively involving individuals with disabilities in the art experience dismantles barriers and misconceptions, promoting a more inclusive and accepting society. Despite the gallery's 64-year-old building, it provided all the necessary amenities to increase accessibility, including a standby wheelchair. An anonymous participant shared, "I was pleased to know that Balai Seni Negara is equipped with basic accessibility needs such as lifts and ramps, making it accessible for wheelchair users like me." The participant also provided suggestions through our mapping feedback form, particularly regarding the placement of art labels at a lower height to ensure full accessibility for wheelchair users or individuals with dwarfism.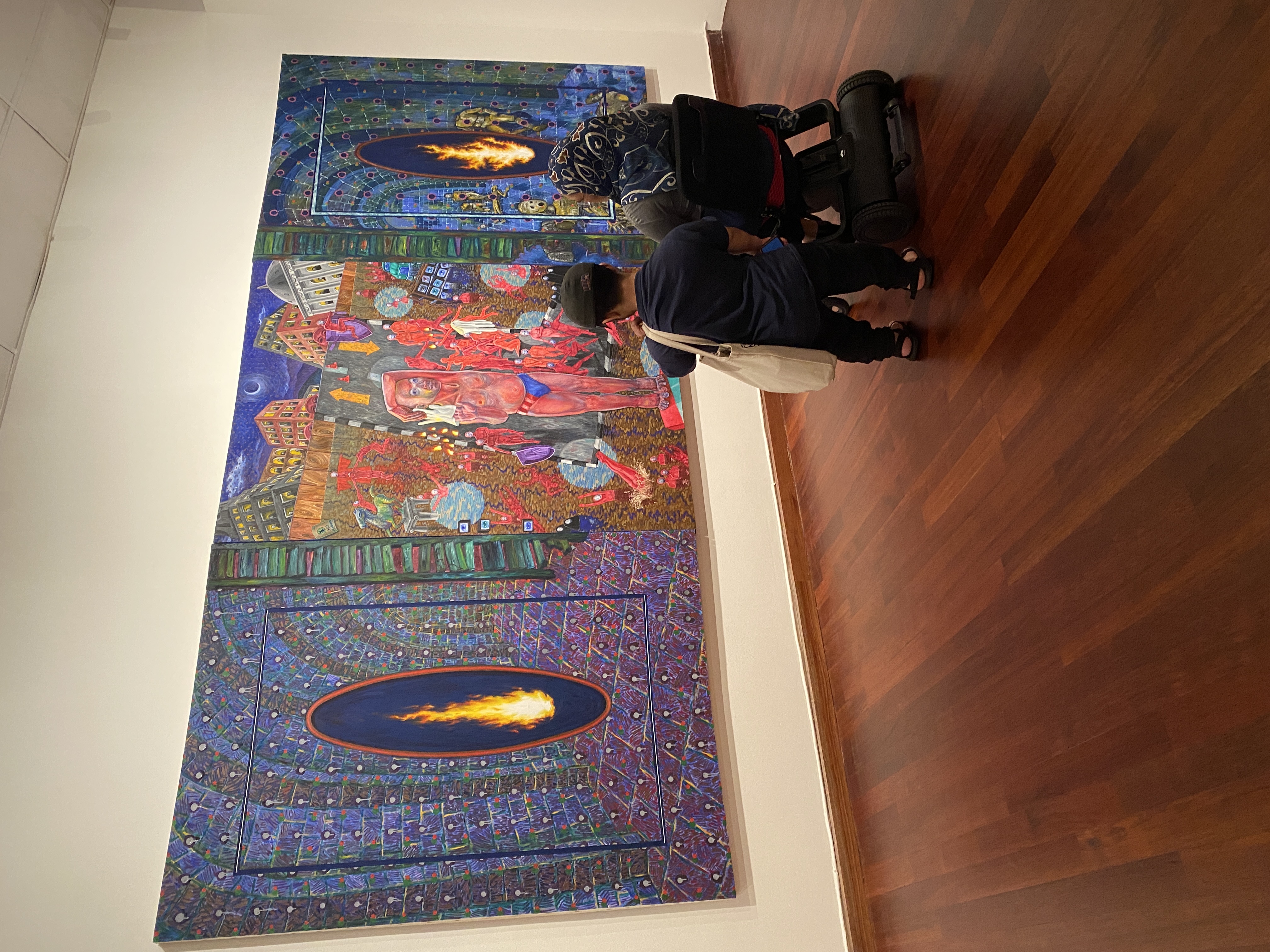 The participants were delighted to discover accessible places through IncluCity.my's excursion and expressed eagerness to explore more locations. The success of this event demonstrated the immense potential for similar programs to empower individuals with disabilities and foster a more inclusive cultural landscape. As shared by one of our PWD youths; "I've finally felt includedand belonged amongst the community. This initiative definitely builds my confidence to speak out my mund and to make a change in our community myself." The excursion to the National Art Gallery can set a precedent for continued partnerships between organisations, artists, and individuals with disabilities, enabling the creation of transformative and inclusive art experiences.
The impact of NakSeni's IncluCity.my excursion at the National Art Gallery, made possible through Yayasan TM, extends far beyond the gallery walls. It empowered participants to explore, unleashing their creativity and fostering personal growth. This event served as an eye-opening experience for most participants, as they discovered the accessibility of the gallery and expressed a desire to revisit in the future. The excursion exemplified the transformative power of the arts and underscored the importance of creating inclusive spaces where individuals of all abilities can thrive and contribute their unique perspectives. NakSeni's IncluCity.my excursions stand as a testament to the boundless potential of the arts to unite, inspire, and empower individuals, regardless of their abilities.